Dakota's Web Page
Labrador Retriever / Mixed : : Female (spayed) : : Baby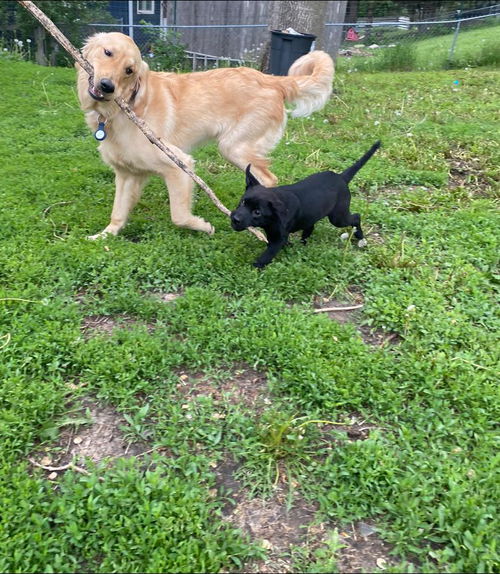 Learn more about the Labrador Retriever.
About Dakota

Status:

Adopted!

Adoption Fee: 500.00
Species: Dog
General Color: Black
Eye Color: Black
Ear Type: Natural/Uncropped
Tail Type: Long
Current Age: 2 Months 30 Days (best estimate)

Fence Required: Yes
Obedience Training Needed: Needs Training
Exercise Needs: High
Owner Experience Needed: None
Reaction to New People: Friendly
Baby Dakota is one of 6 pups that came to us as they were all scheduled to be euthanized due to lack of available room in the shelter. These happy puppy's didn't have a chance if no one did nothing, so UDR stepped up and made a difference for the bunch. Momma looks to be Dobe, Shepard mix and possibly Lab. These puppies are working breed for sure and would thrive in an active home that can take time to teach them all there is to know to be good dogs and give them job to excel at being the best companions ever. Baby Dakota could be your next agility, hunting, obedience dog if given the right platform for training! Baby Dakota is fully vetted, started on her vaccines, spayed and chipped. Apply if interested in a lifetime of love and friendship!!!
More about Dakota
Good with Dogs
,
Good with Cats
,
Good with Kids
,
Good with Adults
,
Requires a yard
,
Likes to play with toys
,
Playful
,
Affectionate
,
Eager To Please
,
Intelligent
,
Even-tempered
,
Gentle
,
Goofy
All potential adopters must fill out the adoption application and pay the application fee of $20.00 in order for United Doberman Rescue to screen potential adopters. Please read our adoption policies page in its entirety before filling out application-failure to do so may delay the adoption process. Please answer all questions on the application, failure to do so may result in your application being denied. We do not adopt on a first come first serve basis but what is the best fit for our dogs. We do give preference to homes with fenced yards. Puppies must live in homes with fenced yards no exceptions. Those with no fencing must have a plan in place for daily activity and bathroom breaks for adult dogs. With the exception of Meet and Greets (see our events page), y ou will not be able to meet our adoptable animals until the adoption application is submitted online and the home visit is completed. We will not place adult rescue dogs in homes with young children under 6 years old, with the exception of puppies 6 months and under, we will adopt to families with children under 6 years old, but a fenced yard is mandatory. Our dogs must live indoors with their humans and never left outdoors alone or in a kennel unattended. You must be willing to use a crate and sign up for formal obedience classes. You must be 21 and own your home. We will not adopt outside of the USA. We will not ship our dogs. We will not adopt to anyone charged or convicted of animal abuse, child abuse, any type of felony.
We follow the Doberman Pinscher Club of America's Code of Ethics. For more information visit the DPCA at www.dpca.org